Information & Policies
Sewer Backups
Procedures If A Sewer Backup Occurs
GHJSA experience shows that most sewer backups are caused by problems with the property owner's sewer lateral and not by blockages within the main sewer line.
Please note that in the City of Hazleton and Borough of West Hazleton, the property owner is responsible for the entire sewer lateral, from the building or structure to the main sewer connection where the lateral is connected to the main sewer line. The following procedures should be followed if you are experiencing a sewer backup:
The Property Owner must first contact a licensed/certified plumber to inspect the sewer lateral.
If the plumber is unable to open the blockage, ask them to locate and identify the problem area with closed-circuit television equipment and/or locating devices.
If backups occur during heavy rain, ask the plumber to ensure that rain leaders, downspouts, sump pumps, and foundation drains are not connected to the sewer lateral. It is illegal for these items to be connected to the sanitary sewer system and the GHJSA will require you to disconnect the illegal connections.
If television inspection of the sewer lateral verifies that the lateral is intact and no blockage is found and that there are no illegal connections as outlined in Item #3 (above), then have the plumber contact GHJSA at (570) 454-0851 to report results of the inspection. GHJSA personnel will then inspect the main sewer line for issues.
All property owners should review their homeowner's or property insurance policies to determine and confirm that they have proper insurance coverage for damages associated with sewer backups or sewer lateral collapses and for repair of the subject sewer line.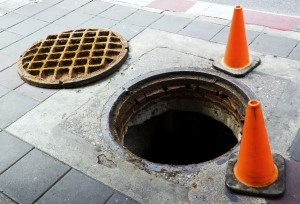 Backup Prevention Tips
Owner Responsibility
A property owner can help prevent their sewer lateral and public sewer mains from backing up. Being careful about disposal of certain products will make the systems more efficient, cause fewer backups, and prevent costly clean-ups.
Grease
Do not dispose of grease down a sink or wash it down a drain with hot water. Pour cooking oil into a container and dispose of it in the garbage. If grease is poured into a sink or drain, it cools and solidifies causing a constriction and eventually clogging the drain the sewer lateral or the main line.
Illegal Plumbing Connections
Do not connect roof drains, French drains, foundation drains or sump pumps to your sanitary sewer. This is illegal, and debris and silt will clog your line. Consult a plumber to correct any illegal connections.
Hypodermic Needles
Please do not flush hypodermic needles into the sewer system! The presence of needles in the wastewater collection system presents special and possible deadly problems for Sewer Authority employees. Please dispose of needles by re-capping and put them into a "sharps container". (This could be any rigid plastic container such as a bleach bottle. Not milk bottles). When it is full, tape the container securely, and call your local pharmacy for advice on proper disposal methods. Please do not flush or throw them into the garbage.
Paper Products
Paper towels, diapers, disposable wipes (aka "flushable" wipes) and feminine products cause problems in the sewer lateral and public main sewer line. Dispose of these products in the garbage. They do not deteriorate quickly and can get lodged in the lateral or main line causing a sewer backup.
Roots
Shrubs and tree roots can make their way into sewer line cracks causing extensive damage. Roots start out small getting into a small crack in the pipe, and grow. Larger roots will break the line, which then allows debris into the line causing a backup. One way to prevent this is to replace old clay pipe with new plastic pipe. Be careful about planting shrubs and trees near your sewer line.
Sewer Odor
There are many ways to prevent a sewer odor from occurring. Under each drain in your plumbing system, there should be a "P-Trap". If there is water in this fitting, odors or gases from the sewer cannot enter through the drain from either the property owner's lateral or the main line. Check to make sure that unused floor drains and sinks have water in the "P-Trap". Also, ensure that roof vents are free from bird nests, leaves, etc. Clear vents allow sewer odors to escape.
Backup Prevention Devices
There are devices that can be placed on or in the lateral to give protection against a backup. A licensed plumber can advise on such devices and their proper installation and maintenance. It is the responsibility of the property owner to decide the necessity of sewage backup protection or the need for additional homeowner insurance coverage.
Procedimientos si se produce un  desbordamiento de alcantarillado
La  experiencia de GHJSA muestra que la mayoria de los desbordamientos de alcantarillado son causados por problemas con el alcantarillado lateral del dueno de la propiedad y no por obstrucciones dentro de la linea de alcantarillado principal.
Tenga en cuenta que en la ciudad de Hazleton y el distrito de West Hazleton, el dueno de la propiedad es responsable de todo el alcantarillado lateral, desde el edificio o la estructura hasta la conexion principal del alcantarillado donde el lateral esta conectado a la linea principal del alcantarillado. Se deben seguir los siguientes procedimientos si esta experimentando un desbordamiento de alcantarillado.
El dueno de la propiedad primero debe comunicanse con un plomero autorizado/ certificado para inspeccionar el alcantarillado lateral.
Si el plomero no puede abrir el bloqueo, pidales que localicen e identifiquen el area problematica con un equipo de television de circuito cerrado y/o dispositivos de localizacion. (culebra con camara instalada)
Si se producen desbordamientos durante las lluvias intensas, pidale al plomero que se asegure de que los conductos de lluvia, los bajantes, las bombas de sumidero y los drenaje de los cimientos no esten conectados al alcantarillado lateral. Es ilegal que estos articulos sean conectado al sistema de alcantarillado sanitario y la GHJSA le exigira que desconecte las nonexiones ilegales.
Si la inspeccion por television del lateral de alcantarillado verifica que el lateral esta intacto y que no se encuentra ningun bloqueo y que no hay conexiones ilegales como se describe en el articulo N# 3 (arriba), entonces pidale al plomero que se comunique con GHJSA al (570) 454-0851 para informar los resultados de la inspeccion. El personal de GHJSA entonces inspeccionara la linea de alcantarillado principal para ver si hay problemas.
Todos los duenos de propiedades deben revisar sus polizas de seguro de propiedad o de propietario para determinar y confirmar que tienen la cobertura de Seguro adecuada para danos asociados con desbordamientos de alcantarillado o colapsos laterales de alcantarillado y para la reparacion de la linea de alcantarillado en cuestion
.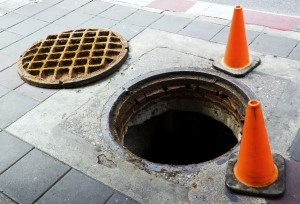 Consejos para la prevencion de copias de seguridad
Responsabilidad del Propietario
El dueno de una propiedad puede ayudar a evitar que su alcantarillado lateral y la red de alcantarillado publico se atasquen. Tener cuidado con la eliminacion de ciertos productos hara que los Sistemas sean mas eficientes, generara menos copias de Seguridad y evitara limpiezas costosas.
Grasa
No tire la grasa por el fregadero ni la lave por el desague con agua caliente. Vierta el aceite de cosina en un recipiente y desechelo en la basura. Si la grasa se vierte en un fregadero o desague, se enfria y se solidifica causando una constriccion y eventualmente obstruyendo el desague, el alcantarillado lateral o la linea principal.
Conexiones ilegales de plomeria
No conecte desagues de techo, desague franceses, desague de cimientos o bombas de sumidero a su alcantarillado sanitario. Esto es ilegal, y los escombros y el sedimento obstruiran su linea. Consulte a un plomero para corregir cualquier conexiones ilegal.
Agujas hipodermicas
Por favor, no deseche las agujas hipodermicas en el Sistema de alcantarillado!  La presencia de agujas en el Sistema de recoleccion de aguas residuales pesenta problemas especiales y posiblemente mortales para los empleados de la Autoridad de alcantarillado. Deseche las agujas volviendolas a tapar y coloquelas en un "recipiente para objetos punzantes" (este prodria ser cualquier recipiente de plastico rigido, como una botella de lejia. No botella de leche). Cuando este lleno, pegue con cinta el contenedor de forma Segura y llame a su farmacia local para obtenber asesoramiento sobre los metodos de eliminacion adecuados. Por favor, no los tire ni los tire a la basura.
Productos  de papel
Las toallas de papel,los panales, las toallas desechable (Tambien conosidas como toallitas desechable) y los productos femeninos causan problemas en el alcantarillado lateral y alcantarillado publico principal. Deseche estos productos en la basura. No se deterioran rapidamente y pueden atascarse en la linea lateral o principal y provocar un atasco en el altcantarillado.
Raices
Los arbustos y las raices de los arboles pueden llegar a las grietas de la lineas de alcantarillado y causar danos importantes. Las raices comienzan siendo pequenas, se introducen en una pequena grieta en la tuberia y crecen. Las raices ,mas grandes romperan la linea, lo que luego permite que los desechos entren en la linea y causen un retroceso.Una forma de evitar esto es reemplazar la tuberia de arcilla vieja con una tuberia de plastico nueva. Tengan cuidado al plantar arbustos y arboles cerca de su linea de alcantarillado.
Olor a alcantarillado
Hay muchas maneras de evitar que se produzca un olor a alcantarillado. Debajo de cada desague en su Sistema de plomeria, debe haber una "P-trampa". Si hay agua en este accesorio, los olores o gases de la alcantarilla no pueden entrar a traves del desague ni del lateral del propietario ni de la linea principal. Asegurese de que los desagues del piso y los fregaderos no utilizados tengan agua en el " P-Trampa": Tambien, asegurese  de que la ventilaciones del techo estan libres de nidos de pajaros, hojas, etc. Los conductos de ventilacion transparentes permiten que escapen los olores de las cloacas.
Depositivos de prevencion de copias de seguridad
Hay dispositivos que se pueden colocar sobre o en el lateral para brindar proteccion contra un retroceso. Un plomero con licencia puede asesorar sobre dichos dispositivos y su correcta instalacion y mantenimiento. Es responsibilidad del dueno de la propiedad decidir la necesidad de proteccion contra el reflujo de aguas residuales o la necesidad de cobertura adicional de Seguro de propietario de Vivienda.